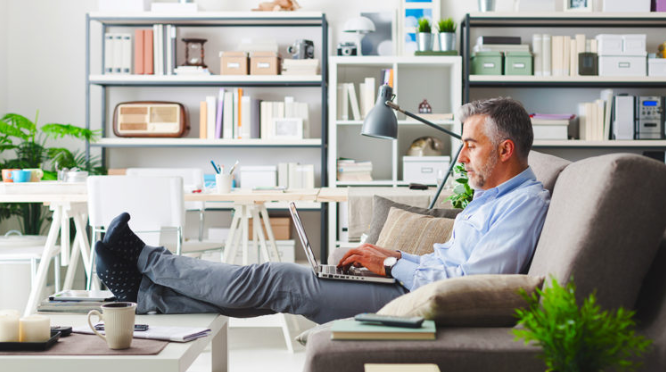 Companies all over the globe are turning to remote working in a bid to keep going. Whether you are a novice or a work from home (WFH) veteran, this post is for you and offers a few valuable tips to ensure your virtual teams stay productive
All the tech giants—Google, Apple, Microsoft, Amazon, Twitter, Spotify, Hitachi, Salesforce, Chevron, you name it; from the U.S. to the UK, Australia to Germany, Japan to South Korea, these are global firms that have taken the leap into work from home challenge as the spread of coronavirus continues.
A shift to the 'home office' is sure to become the new norm for many businesses and their employees for the next few weeks or months, following the latest announcement by the World Health Organization (WHO) that COVID-19 has evolved into a 'pandemic' status.
As it is, some employees will be working virtually for the first time, meaning workers have to figure out how to stay focused on a task and becoming productive in a new environment. However, there are several ways one can communicate and deliver great results without feeling awful about the home environment.
Crank Up The Communication
COVID-19 aside, the best way to make the most out of the virtual working arrangement is ensuring clear communication with your boss and knowing exactly what your boss expects of you.
Barbara Larson, a professor of management at Northeastern University in Boston and a researcher of remote working advises, "Ask [your manager] if they don't mind having a 10-minute call to kick off the day and wrap up the day. Often times, managers just haven't thought of it."
In the traditional office environment, employees spend their day in proximity with their bosses hence communication is easy and effortless. But the experience in remote work is totally different with possible communication breakdowns if the employees or manager fail to understand remote working.
Also, if your company does not have a ready-to-go assembly of tools to support remote work such as chat apps like Slack or video conferencing apps like Zoom, then communication can be a challenge.
But even for those who are used to working remotely, the 'home office' can sometimes feel unstructured and isolated. According to a 2019 study involving 2,500 virtual workers, Buffer an online brand development agency discovered that loneliness was the second-most reported challenge faced by 19% of the respondents.
Loneliness is a problem that can make employees working remotely to feel less productive and less motivated. Hence face-to-face communication via Zoom, Skype and video calls can help make the experience richer.
'Treat It Like A Real Job' When You Work From Home
"Out of sight, out of mind can be a real problem for remote workers," says Sara Sutton, CEO and founder of FlexJobs, a remote job listing site. "The very best remote workers will reach out to coworkers and managers regularly" through a variety of tools.
There are more WFH tools to consider. Just because you can hang around your 'home office' in pyjamas doesn't mean you should lazy about…"Take a shower and get dressed. Treat it like a real job," adds Larson.
If you don't have a functional home office, be sure to create an ad hoc, your bespoke area exclusive for work. Not having a well-equipped home office space when working remotely can temporarily reduce productivity.
And instead of lying in bed with your laptop, be deliberate in putting down your computer and sitting in an upright position in your chair just as you do at your office.
This also alerts those you live with that you are 'at work' and serves as a boundary within your home that your family will respect.
In another 2019 survey involving 7,000 employees, FlexJobs found out that 65% of the participants said they felt more productive working remotely and cited various benefits including reduced stress of commuting, less interruptions from colleagues and reduced office politics.
Don't Feel Isolated
Even with a well-equipped home office, the sudden transition to a home environment can leave many struggling to adapt to the change. Also, prolonged isolation periods could potentially affect morale and productivity. However, teams can creatively use unconventional ways of breaking loneliness by allowing employees to connect and share a cocktail via Skype or Slack.
The coronavirus global pandemic is quickly pushing people into working from home. And it's so far unclear how long employees will stay at home thus creating another challenge for parents working from home. Schools have closed and children at home, parents have to stay in touch with their colleagues and this calls for a lot of understanding from their managers.
'Keep Spirits Up'
Without a doubt, these are extremely stressful times for many of us. From the negative headlines in media, worrying about getting the virus, nursing a sick/elderly person to fighting the urge to panic buy household essentials, your ability to be productive can be derailed. But the more effort you put in to stay connected with your colleagues, the higher your chances of avoiding feeling bored and overwhelmed which can potentially lead to isolation.
More Face-To-Face Interactions Online
To effectively manage your virtual teams, managers should ensure online face-to-face interactions as much as possible through video calls and frequent manager check-ins particularly with those workers who stay alone as they may feel overly isolated.
That's important if people have to work from home for the next couple of weeks. Create a norm of some kind and keep people's spirits up.